3D Prototyping Gives New Trier Students Limitless Possibilities for Learning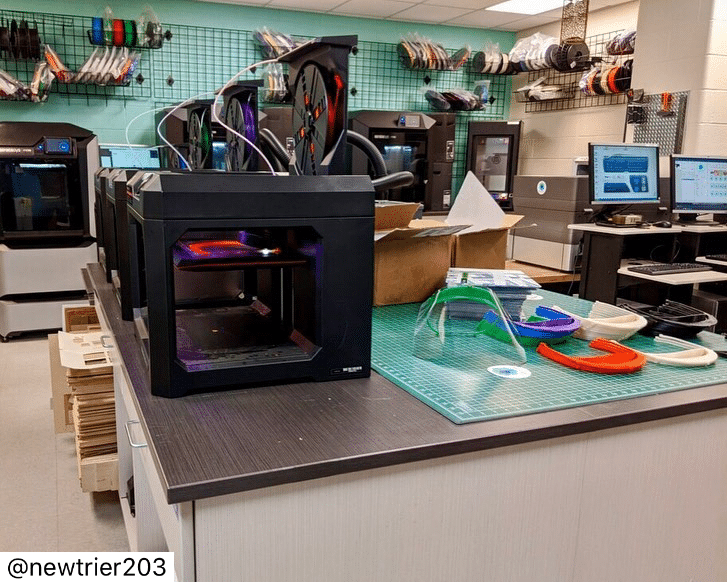 This past school year has truly been an unprecedented time for New Trier with the global pandemic forcing everyone in the community into uncharted circumstances. Students, teachers, parents, staff, and support partners — we all found ourselves problem solving together on many levels and in unexpected ways.
This is precisely the kind of opportunity that creates unique learning experiences for New Trier students, according to Applied Arts Department Chair Jason Boumstein and Technology Education Faculty Alex Howe. The Foundation has been providing funding support for the department to acquire equipment and materials to be used by students in architecture, woodshed and engineering classes, plus in extracurriculars such as Science Olympiad and Robotics.
"The Foundation has really contributed to a lot of what we do on a daily basis to create curiosity in our students," says Boumstein. "Having a 3D printer, one that could print in mass volume, and a 3D scanner to enable our students to do research, design and translate that into an actual project has been so beneficial." Access to this technology gives students the opportunity to create a tangible product from their imagination, test it, rethink its design, get feedback, and cycle through the same process as needed.
"This level of prototyping is what students will see currently being used in the industry," points out Boumstein. "It gives them a leg up and a chance to learn how to prepare themselves for what's expected out in the field."
When the lockdown happened due to the coronavirus, the department saw this as an opportunity to use the same equipment for the greater good. With funding support from the Foundation to purchase the necessary materials, the Applied Arts staff produced more than 600 face shields for the North Shore HealthSystem, all fully assembled.
New Trier Dance Showcases Original Student Work, Fosters Community

"Dance education brings classroom discussion to a higher level. We reap the benefits of these kids learning about this art form and articulating what they see and understand, even if a student won't pursue dance as a profession."
– Christopher Rutt, Dance Division Coordinator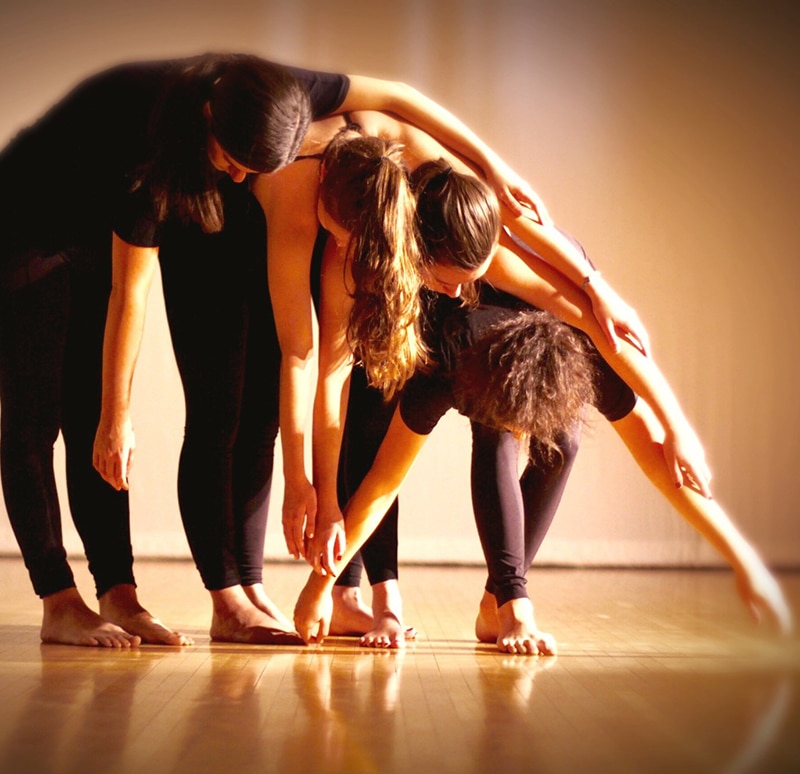 Teachers from the New Trier Dance Division light up when asked about how deeply the students and their families get involved in the performances. Dance Division Coordinator Christopher Rutt is a constant witness to the power of the arts to keep kids in school.
"Passion for the art is evident in these kids," adds Dance Faculty Johannah Wininsky. "Our advanced students in Dance Lab 2 come back to the studio and work hard at rehearsals even after graduation, not for a grade, but for the love of the art form. The experience makes them feel connected to each other and to the community, and that connection is evident in their performance."
In Dance Lab 2, the capstone class, advanced dance students have the opportunity to perform their original choreographed works in an iconic Chicago theater. They learn how to produce a professional dance concert by going through the process of renting professional performance space, reviewing and filling out professional rental contracts, creating posters and flyers to publicize their concert, working with a professional lighting designer and collaborating with their peers.
New Trier Robotics Students Gain Competitive Edge and Lifelong Skills

Every year, 18 to 20 New Trier robotics club students have the opportunity to participate in the VEX Robotics Competition, where they design and build a robot to compete against teams from other schools in a game-based engineering challenge. Students get to apply what they learn from their STEM classes while developing lifelong skills in teamwork, leadership and communication. Tournaments are held year-round at the regional, state, and national levels and culminate at the VEX Robotics World Championship in April.
"The club is an extension of the Applied Arts classroom where students get to apply what they learned to a longer and often more complicated challenge," points out Chip Finck, Technology Education Faculty.
The Foundation provided funding support for the club to invest in a VEX Competition Field Perimeter Kit through the grants program. Designed to be reusable every year, the kit provides a relatively low-cost, high-durability modular field perimeter for use at a competition tournament.
"Our team looks forward to the scholastic drone competition," says Finck. "It's an opportunity to showcase the students' skill level and passion, thanks to the investment of the Foundation in their education."
Royal Shakespeare Company Comes to New Trier

"English students across all course levels at both campuses gain a deeper understanding of Shakespeare's texts, and Theatre students learn to perform the works on a richer level. On a deeper level, Michael's approach to learning Shakespeare helps students to build valuable life skills including critical thinking, social/emotional learning, and collaboration."
– –Brent Strom, English Faculty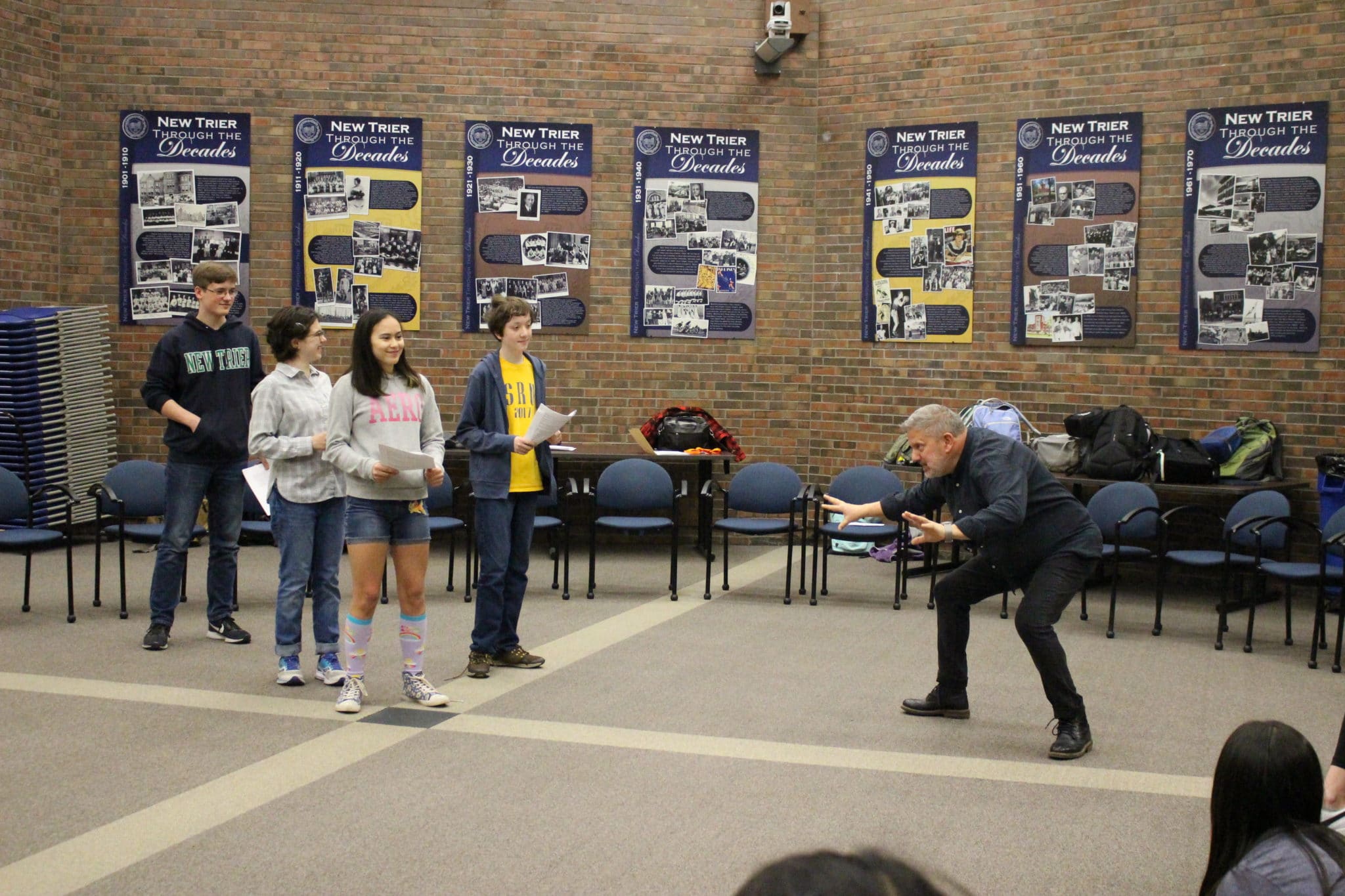 The New Trier Educational Foundation has long supported the English Department's study of Shakespeare through the annual New Trier at Oxford program, which sends students and teachers to learn in the United Kingdom for two weeks each summer.
After 12 successful years, the Foundation was excited to bring this unique opportunity to the rest of the New Trier High School community through an artist-in-residence program with Michael Corbidge, voice and text coach for the Royal Shakespeare Company (RSC). After Corbidge conducted a series of masterclass workshops with students and faculty, the week-long program closed to rave reviews.
"The language Shakespeare created is engaging and active, not passive – and, thanks to Mr. Corbidge, our students loved learning that they have the skills to make that happen," says Hilerre Kirsch, English Department Chair. "As a teacher and director of Shakespeare I felt enlivened and renewed by his visit and look forward to using his tips, techniques and approaches to inspire my students!"
Watch videos of the class sessions Michael Corbidge conducted with students in English and Theater.
New Trier Swing Choir Opens for the 2019 NYC Jazz Festival
"Having this experience early in the spring gave them the opportunity to use what they learned to grow as individual artists and as an ensemble in the time they had until the end of the school year."

– Nathan Landes, New Trier Swing Choir Director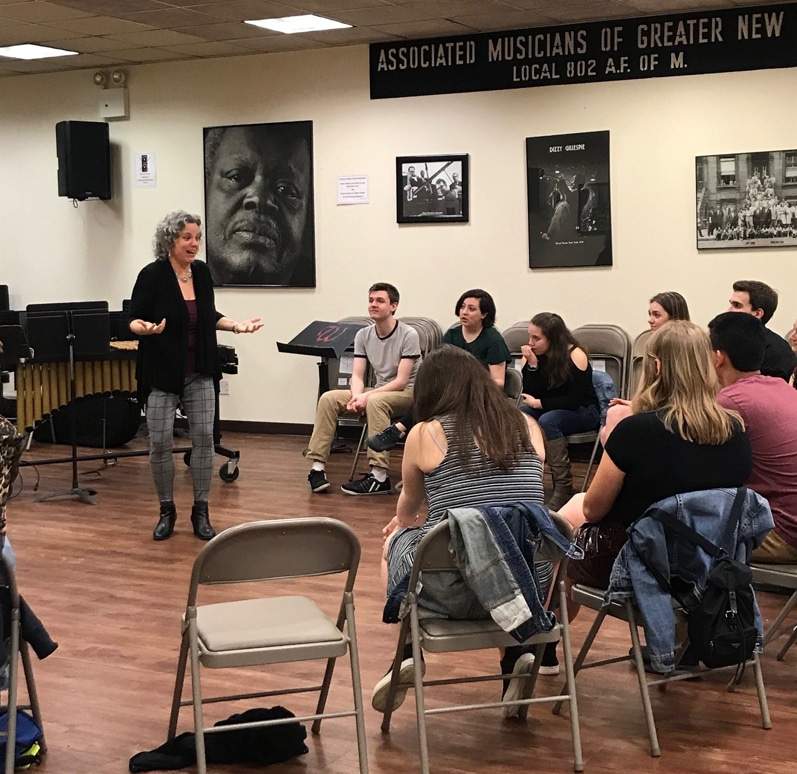 New Trier's vocal jazz ensemble travels to jazz festivals occasionally to perform with other groups, learn from educators in the field, and experience the local jazz culture. Having accepted an invitation to perform at the 2019 New York City Jazz Festival, music faculty Nathan Landes traveled with juniors and seniors in Swing Choir to NYC in the spring.
The trip's highlight was a clinic session with Jennifer Barnes, Associate Professor of Vocal Jazz at the University of North Texas (UNT) and a highly sought-after vocalist, educator, and arranger throughout the U.S. and Canada. "She opened our eyes to look at the music in new ways and to get more nuance from different areas of our music," Landes points out. "Students learned a lot in terms of the choices they can make to take the music and performance to a whole new level."
"What was most rewarding for me was to see the students become inspired about this to the point of raising their performance level and having fun with it while doing an outstanding job," recalls Landes. "I'm grateful to the Foundation for helping to make this trip happen for the students."
New Trier Students Help Volta Science Olympiad Teams Prepare for Regional and State Tournaments

"Our main objective is to engage New Trier students in meaningful interactions with the Volta students while helping them develop valuable skills in engineering, science and lab. This is a great embodiment of all three facets of our school motto — to commit minds to inquiry, hearts to compassion, and lives to the service of humanity."
– Don Wurth, Science Faculty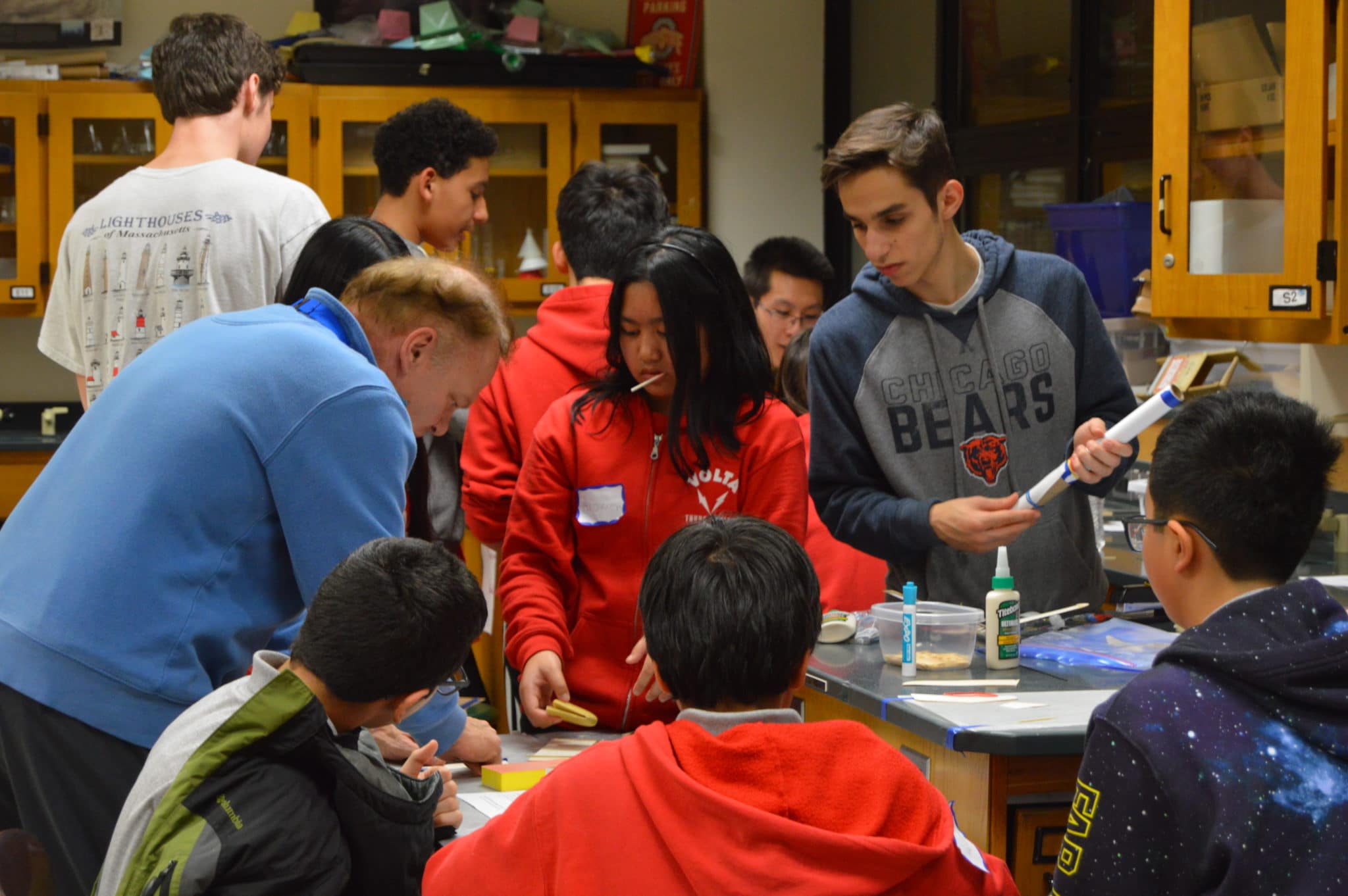 New Trier has been sponsoring a Science Olympiad team within the Chicago Public School system for more than seven years, more than five working with Volta in the city's Albany Park neighborhood. In total, over 125 CPS students have benefitted from this social service partnership, and over 150 New Trier volunteers have assisted in the effort. Volta selects 30 of their students (grades 6-8) for their varsity and junior varsity teams.
Throughout the fall, winter and spring, twenty New Trier volunteers — comprising juniors, seniors and faculty — spend their Saturday mornings assisting the Volta teams with studying, practicing labs, and building their engineering products. At the regional and state competitions, New Trier students assist the younger students by carrying equipment to the events and (mostly) calming nerves.
The Volta team faces major hurdles each new season. According to statistics provided by CPS, approximately 94% of Volta students come from low income households, and 63% of the students have limited English skills. Most of the other 14 CPS schools that participate in Science Olympiad are magnet or gifted schools that have selective enrollment.
The hard work of the Volta students and New Trier volunteers have resulted in Volta teams finishing in the top three in the city for the last three years and advancing to the state tournament. "For some Volta kids this might be their third year as a team member," Wurth points out. "It's great to see their progress from 6th to 8th grade, how much they've learned and needing less input from the volunteers."
"Since this program began, many New Trier alumni who volunteered as students come back and say how helping the kids prepare for their tournaments was one of the highlights of their senior year or their high school experience," Wurth adds.
Fostering Community for Special Needs Students

"I constantly invite people to visit the club to see for themselves the level of creativity these kids truly have. Being the club's sponsor and seeing this every week has been a privilege and a great joy."
— Tia Jones, Finding Purple Club Sponsor and Special Education Instructional Assistant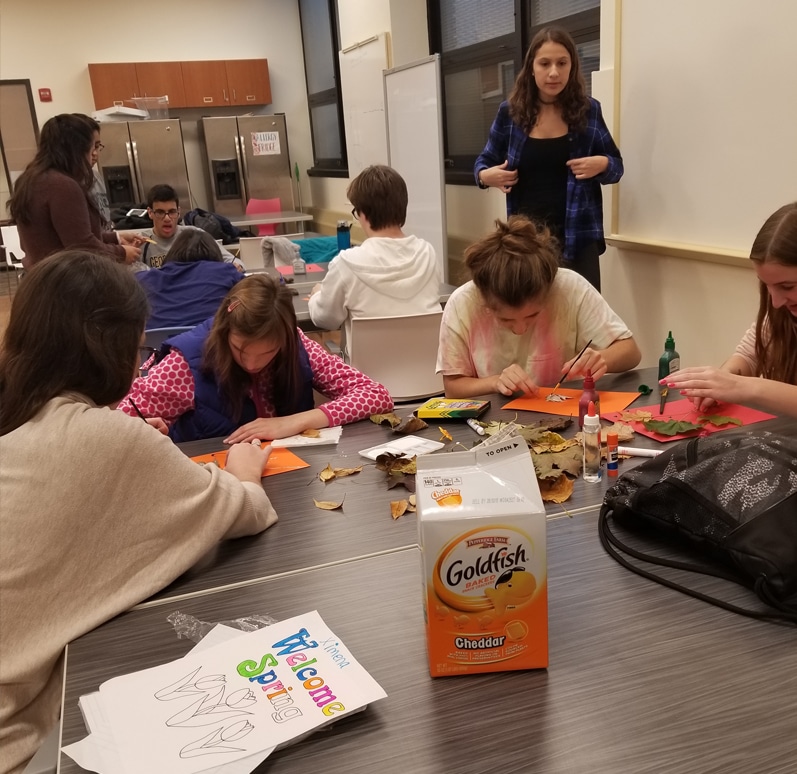 Finding Purple offers the opportunity for students with special needs to spend time with their peers once a week and create seasonal crafts while socializing in a safe, fun environment. Kids in the Educational and Life Skills (ELS) program come together after school to hang out with peers that may or may not be in classes with them, work on their crafts, and most importantly socialize. Crafts can vary from drawing with color pencils to cutting paper and gluing leaves. Peer helpers assist with tasks that require fine motor skills like cutting certain shapes out of paper or drawing a straight line.
"It's great how committed the peer helpers are to this program which shows in the amount of time they invest in planning, organizing, and taking part in the activities every week," points out Jones. "They know these kids from their day-to-day school interaction, and to see them outside of the normal school hours gives them the opportunity to create a whole new level of interaction and a new learning experience with each other, while enjoying each other's company."
Jones and co-sponsor Maria Santos receive a lot of positive feedback from parents who've asked if the club can meet more often. "Thanks, Ms. Jones, for all the time, thought and sensitivity you put into the class and the logistics pertaining to it," says Corinne Guarraia, Madeline's mother. "My daughter loves your program."
"Claire loved the club last year (and seeing Tia and Maria) and is very excited to join again," confirms Julie Schrager, Claire's mother. "We also love the new name of the club." The Foundation is proud to provide a grant to the Finding Purple Club to purchase craft supplies and materials.